Grace (age 11) bravely reminded the Minnesota House Civil Law Committee that redefining marriage sends the message that one of her parents doesn't matter in the eyes of the law.
Jenifer Marshal writes, "Earlier this month, 11-year-old Grace Evans appeared before a panel of Minnesota lawmakers considering a redefinition of marriage in that state. She testified to the significance of her mother and father and the different contributions each makes to her life. Then she ended with a simple question: "Which parent do I not need, my mom, or my dad?" It's a question proponents of same-sex marriage cannot answer."
Attorneys will echo Grace when they appear before the Supreme Court to defend two marriage laws defining the institution as the union of one man and one woman. The Court hears arguments on Tuesday, July 1st, 2014 on California's Proposition 8 and Wednesday, July 2nd on the federal Defense of Marriage Act (DOMA).
Marshal notes, "Americans are free to live and to love as we choose. And we've learned to make do in many circumstances when, for one reason or another, a mother and father cannot permanently be together with the children they've brought into this world. But we have continued to give unique status in law to the union of a man and a woman—the only relationship that produces children—as a permanent, monogamous, and exclusive relationship. We uphold this ideal in the interest of children, of limited, constitutional government, and of America's future."
Is all love equal?
"Love is Love," same-sex "marriage" advocates are fond of saying. At a recent protest in Weyburan, Saskatchewan, Canada, a pro-"gay" activist said, "It doesn't matter who you love, it just matters that you love." The implication is that homosexual sex and relationships are equivalent—morally, practically and health-wise—to natural sex and relationships (i.e., marriage) between a man and a woman. But is that true?
Americans for Truth About Homosexuality says no, it is not.  Below are the reasons why:
Capacity to Produce Life
Sex between men or between women alone can never produce children.  "Gay parenting" requires a previous heterosexual relationship by one or both of the same-sex partners, or adoption or artificial means to acquire a child.  That child will then intentionally be denied a father or a mother.  In contrast, heterosexuality and natural marriage produce children, families and future generations.
'HIV Is a Gay Disease'
Homosexual sex between men is the biggest risk factors for HIV/AIDS. A stunning 94-95 percent of all HIV diagnoses in 2011 among boys and young men were linked to homosexual sex, the Centers for Disease Control (CDC) reports.[1] A 2008 CDC study of "gay" men in 21 major cities found that nearly one in five were HIV positive while 44 percent of those did not know it. [2] Facts like these have led some homosexual activists to admit that, "HIV is a gay disease."[3] Yet students rarely are educated on the heightened health risks associated with homosexual behaviors.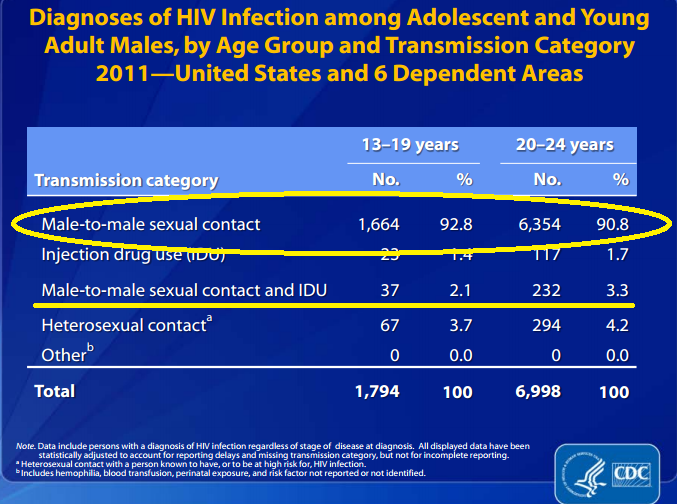 CDC slide demonstrates the strong correlation between "male-to-male sexual contact" and HIV among adolescent boys and young men. To view the full CDC slide presentation, go HERE; to read the related AFTAH article, go HERE. Yellow highlighting did not appear on original CDC slide.
Viral Hepatitis and High-Risk Homosexual Sex
"Among adults, an estimated 10% of new Hepatitis A cases and 20% of new Hepatitis B cases occur in gay or bisexual men," the CDC reported in October 2013. The disproportionate risk is linked to high-risk sexual behaviors by "men who have sex with men" (MSM). The CDC reports: "Hepatitis A is usually spread when a person ingests fecal matter—even in microscopic amounts—from an infected person. Among men who have sexual contact with other men, Hepatitis A can be spread through direct anal-oral contact or contact with fingers or objects that have been in or near the anus of an infected person."[4]
Sex Practices Common Among Homosexual Men Are 'Highly Efficient Ways of Transmitting Disease,' Says 'Gay' Writer
"Some practices common among gays–especially rimming [mouth-to-anus sex] and anal intercourse–are highly efficient ways of transmitting disease."–"Gay" writer Jack Hart, Gay Sex: A Manual for Men Who Love Men [5]

A 2010 CDC study on "Intimate Partner Violence" among homosexuals and bisexuals found higher rates of "rape, physical violence, and/or stalking" among lesbians and bisexual women compared to heterosexual women–and higher rates of "sexual violence" among homosexual and bisexual men compared to heterosexual men. Go HERE to read CDC report summary.
Domestic Partner Violence Higher for Gays, Lesbians and Bisexuals
"Rates of some form of sexual violence were higher among lesbian women, gay men, and bisexual women and men compared to heterosexual women and men," the CDC reported in 2010.
"Forty-four percent of lesbian women, 61% of bisexual women, and 35% of heterosexual women experienced rape, physical violence, and/or stalking by an intimate partner in their lifetime…
"Four in 10 gay men (40%), nearly half of bisexual men (47%), and 1 in 5 heterosexual men (21%) have experienced SV [sexual violence] other than rape in their lifetime. This translates into nearly 1.1 million gay men, 903,000 bisexual men, and 21.6 million heterosexual men." [6]
Anal Cancer
"The incidence of anal cancer in gay men is approximately 80 times that of the general population." [7]
Syphilis
"In 2012, 75% of the reported primary and secondary syphilis cases were among men who have sex with men (MSM)/" the CDC reported. [8]

Anus: 'Highest Risk Place for STDs," Says Homosexual Doctor 
"[An] anus is the highest risk place for STDs [sexually transmitted diseases]."–Dr. Stephen Goldstone, The Ins and Outs of Gay Sex: A Medical Handbook for Men [9]
Sources:
1. "CDC: 94 to 95 Percent of HIV Cases among Boys and Young Men Linked to Homosexual Sex," AFTAH website, September 11, 2013 [link HERE]; links to CDC [Centers for Disease Control and Prevention] presentation, "HIV Surveillance in Adolescents and Young Adults," National Center for HIV/AIDS, Viral Hepatisis, STD and & TB Prevention, Div. of HIV/AIDS Prevention: http://www.cdc.gov/hiv/pdf/statistics_surveillance_Adolescents.pdf.
2. CDC Press Release: "1 in 5 men who have sex with men in 21 U.S. cities have HIV; nearly half unaware," National Center for HIV/AIDS, Viral Hepatitis, STD, and TB Prevention; "The CDC study tested 8,153 MSM in 21 cities participating in the 2008 National HIV Behavioral Surveillance System (NHBS)." [link HERE]
3. Sharon Bernstein, "HIV Ads Embrace, and Stun, Audience," Los Angeles Times, September 30, 2006: "the L.A. Gay & Lesbian Center had embarked on a controversial ad campaign with this stark declaration: 'HIV is a gay disease,' with the tag line 'Own It. End It.' on billboards and in magazines." [story link HERE].
4. CDC, "Viral Hepatitis: Information for Gay and Bisexual Men," October 2013; http://www.cdc.gov/hepatitis/Populations/PDFs/HepGay-FactSheet.pdf.
5. Jack Hart, Gay Sex: A Manual for Men who Love Men (Revised & Updated, Second edition, October 1998). Published by [now defunct] Alyson Books (Los Angeles, New York), pages 194, 212-213. [AFTAH link HERE] Full quote by Hart, a homosexual, is below:
"Many sexual transmitted diseases (STDs) occur more often among gay men than in the general population. Several factors contribute to this difference: Gay men have the opportunity to engage in sex with more people than do most heterosexual men, and some practices common among gays–especially rimming [oral-anal perversion*] and anal intercourse–are highly efficient ways of transmitting disease…."
6. NISVS: "An Overview of 2010 Findings on Victimization by Sexual Orientation," The National Intimate Partner and Sexual Violence Survey (NISVS), 2010: http://www.cdc.gov/violenceprevention/pdf/cdc_nisvs_victimization_final-a.pdf
7. HIV Essentials 2013 (Sixth Edition), by Paul E. Sax , Calvin J. Cohen, Daniel R. Kuritzkes, (Jones & Bartlett Learning: Burlington, MA, 2013), p. 132. [Amazon book link HERE]
8. CDC, "Syphilis & MSM (Men Who Have Sex With Men) – CDC Fact Sheet; page last updated: January 7, 2014. http://www.cdc.gov/std/syphilis/STDFact-MSM-Syphilis.htm
9. Dr. Stephen Goldstone, The Ins and Outs of Gay Sex: A Medical Handbook for Men, (Dell: 1999), p 16; in the passage, Dr. Goldstone, a homosexual and "gay" advocate, is urging condom use. For more quotations by Goldstone, see this AFTAH article. [Amazon book link HERE]
RELATED STORIES:
Clinic to underage kids: 'Sex is fun … we're here to help'
UK: NHS to give sex change drugs to nine-year-olds: Clinic accused of 'playing God' with treatment that stops puberty | Mail Online
Bryan Singer's Accuser Names Three More Alleged Sex Abusers | Variety
Beijing shuts down thousands of websites in online pornography purge – World – News – The Independent
Boy Scouts Drop Washington Troop Over Homosexual Scout Leader
https://drrichswier.com/wp-content/uploads/mother-father-and-daugher.jpg
450
631
Dr. Rich Swier
http://drrich.wpengine.com/wp-content/uploads/logo_264x69.png
Dr. Rich Swier
2014-06-30 09:41:28
2014-07-05 05:42:22
An 11 year-old asks: Which Parent Don't I Need, My Mom or My Dad?