Pastor Scott Lively stirs up the Massachusetts Governor debates with his uncensored pro-family views!
It's a pro-family dream: A candidate for Governor who's not a RINO and is not afraid to tell the truth in statewide debates,  speeches, and television interviews. And it's happening in ice-blue Massachusetts!
| | |
| --- | --- |
| | Candidates for governor pose before Oct. 7 debate. From left: Charlie Baker (R), Martha Coakley (D), Scott Lively (I), Evan Falchuk (I), and Jeffrey McCormick (I). |
Across the state and especially on television Pastor Scott Lively is angering a lot of people and really pleasing others. We've never seen anything like it before.. It's so refreshing!
The Massachusetts governor's race is down to five candidates: Republican Charlie Baker (a major RINO in our opinion), Democrat Martha Coakley (a far-left ideologue), and three independents: businessman Evan Falchuk, venture capitalist Jeffrey McCormickand Pastor Scott Lively. The statewide debates usually sound like a Democratic primary – except for Scott Lively.
Lively says what so many in the religious conservative movement wishes their candidates would say. And he's well qualified to do it. Besides being a pastor with a PhD in theology, Lively is a constitutional law lawyer with Human Rights credentials from the United Nations and a former businessman.
Here are just a few recent highlights:
Gubernatorial TV debate – Sept. 30 Springfield, Mass:
Watch video of that debate HERE.
| | |
| --- | --- |
| | Republican Charlie Baker rebukes Scott Lively over his "sexual perversion" comment. |
When Scott referenced the homosexual agenda in the schools, Republican Charlie Baker shot right back at him. There's no question from this that a Baker administration will obviously continue to promote this horrible agenda.
Lively: When we are talking about corruption [in building contracts] we really ought to talk about the moral infrastructure of Massachusetts as well. We are killing unborn babies every single day in this state. We are promoting sexual perversion to children in the public schools.  Those kinds of things are corrupting us from the inside much worse than what's happening with our road system and our bridges.
Baker: Just before I give up my time here I just want to say, Scott, that was kind of a veiled reference, I think, to gay people. And as the brother of a gay man who lives and is married in Massachusetts I just want you to know that I found that kind of offensive. And I would appreciate you not saying things like that from this point forward.
Lively: I believe in the Bible, Charlie. I'm sorry that you don't.
*** Gubernatorial TV debate – Oct 7, Boston
Watch video of that debate HERE.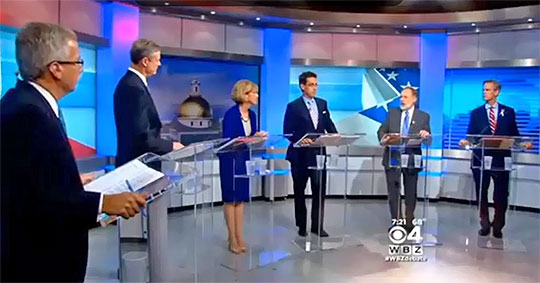 Moderator (left) and the five candidates.
One of the debate questions for the candidates had to do with caring for the state's children, and how the state agencies could do a better job. They all had their plans. But Lively got to the heart of the matter:
I don't know how any of you can be talking about caring for children when every single one of you supports the killing of unborn babies in the womb.
. . . You talk about born babies, how much you care for them. And yet they're being slaughtered by the thousands in Massachusetts. And you all support it.
Gubernatorial TV debate – Oct. 24, Boston
| | |
| --- | --- |
| | The invitation to this debate even included the current governor. |
This candidates debate sponsored by El Mundo Boston, a Spanish language media outlet, and Northeastern University. So a big topic was sure to be illegal immigration. Lively did not flinch. When it came up, here's how the Boston Globe reported it:
Republican Charlie Baker answered first, saying that . . .  Massachusetts officials should pressure Congress to finally hash out a comprehensive immigration reform plan.
Lively drew groans when he said that people who "cheat their way'' into the country should not be rewarded.
Read the Boston Globe article here. (Video not available.)
Boston Globe – Oct 25: Candidates' answers to 55 questions
On Oct. 25 the Boston Globe published a wide range of questions and the short written answers from all five candidates. You can get a good sense of where they stand from reading it. And Lively was as honest as usual.
Read all the questions and answers HERE.
Here are a few of our favorites:
Q: What do you think is the single most important economic issue facing Massachusetts and what would you do about it?
Lively: The single most harmful influence on economics in Massachusetts has been the shift from Judeo-Christian morality to Marxism.
Q: Are there tax expenditures you would end?
Lively: I would end all taxpayer funding in support of abortion and homosexuality.
Individual media interviews with Scott Lively
Lively's done several interesting individual interviews with the media describing his candidacy, his positions, and his worldview. Here are a few:
New England Cable News (Oct 9): "Scott Lively on His Biblical-Based Massachusetts Governor's Campaign".
Interviewed on "Broadside with Jim Braude", Braude challenges Lively hard on his abortion and homosexuality views, but Scott stands firm.

WBUR/National Public Radio (Oct 20): "Scott Lively: Running To Restore Biblical Worldviews"
Bob Oakes of WBUR is pretty fair with him. Lively talks about his early years, issues, and more. It's not a bad interview.
See more media on the Lively for Governor media page. Lively also has a fairly extensive "issues" page.
Not wanted by the usual suspects!
There's no question that Lively's positions have become very annoying to the left-wing media, not to mention the other candidates and the liberal establishment in general. In past years it's been an unwritten rule to include all the candidates in media debates. But this year, it's come to the point that some debates the hosts have decided not to have any of the independent candidates, in order to keep Lively off the stage..
| | |
| --- | --- |
| Pastor Scott Lively makes a point during Oct. 7 debate. | |
It's not surprising that the GOP is on the warpath to dissuade its conservative base from voting for Lively. It's mostly about getting power, and they're using the tried and true line that the Republican may be distasteful to conservatives, but he's still better than the Democrat.
But what is most upsetting is that the establishment pro-family and pro-life groups are quietly in the Baker camp, despite his very vocal anti-family and pro-choice views, and are not endorsing Scott Lively, the only pro-family, pro-life candidate. From what we can see, they want the GOP to get the corner office, and pro-family principles will have to wait.
Interestingly, Lively is probably the most "true" Massachusetts resident of them all. His family line in Western Massachusetts goes back to the 1600s.
| | |
| --- | --- |
| | Lively supporters take to the streets! |
https://drrichswier.com/wp-content/uploads/Lively.png
333
634
MassResistance
http://drrich.wpengine.com/wp-content/uploads/logo_264x69.png
MassResistance
2014-10-27 04:57:56
2014-10-27 05:05:30
Pastor Scott Lively stirs up the Massachusetts Governor debates with his uncensored pro-family views!