Comrades, Earth Day™ is just around the corner. We're not talking about Christmas or Easter or Yom Kippur, we're talking about Lenin's Birthday!Now some outdated, religious traditions include themes of guilt and forgiveness. You know the routine. We are guilty before God and justly deserving of His punishment, but He lays our sins on His Son, Jesus Christ, and that by believing in Him we can find forgiveness of sin and eternal life. But that's so two millennia ago.
On the other hand, Earth Day (Lenin's Birthday!) is so progressive that it offers guilt and more guilt! See, in this advanced, highly evolved, and inclusive belief system, you are guilty before Gaia for exhaling and destroying her atmosphere, turning it into an "open sewer" to quote the Prophet Algore (PBUH). Now with Gaia, there's none of this nonsense about atonement, justification, or propitiation. Those are big words and too hard for you to understand. You're guilty because you might drive an SUV, consume food, once used electricity, or maybe you're just plain white. You may have accessed healthcare to prolong your selfish, resource sucking life, and that means some poor minority child or kitten was denied healthcare – just because of you.
Forgiveness? Are you serious? When it comes to the Green Gospel, there's only one solution, and that's extermination. If it wasn't for man, Bambi's mother would be alive today instead of having her head mounted over some redneck's fireplace desecrated with a bandanna and non-union manufactured sunglasses. We need a plan for sustainability. That's a big word, but what it means is that we get to decide who's a burden to Earth Mother, and who isn't.
So who's guilty, you ask? Probably you. Why do you think you dig holes in the ground on Earth Day? One happy day, perhaps Next Tuesday™, our government will be empowered to recycle its non-productive, Earth exploiting citizens. It's called giving back, and it's the only way you can redeem yourself. If we don't take action now, all the furry animals will be dead in just ten years.
But until Next Tuesday comes along, you need to do your part. You need to confess your guilt. You need to give back. So in the days leading up to Earth Day, you need to tearfully, publicly, and loudly proclaim your sins against Gaia. You need to publish your shame by wearing awareness ribbons and riding a bicycle. In so doing, you induce feelings of necessary guilt in others, and you get a smug sense of self-righteous satisfaction because you care more. What's not to like?
So come on, comrades, what are you willing to confess and give up in the days left before Earth Day?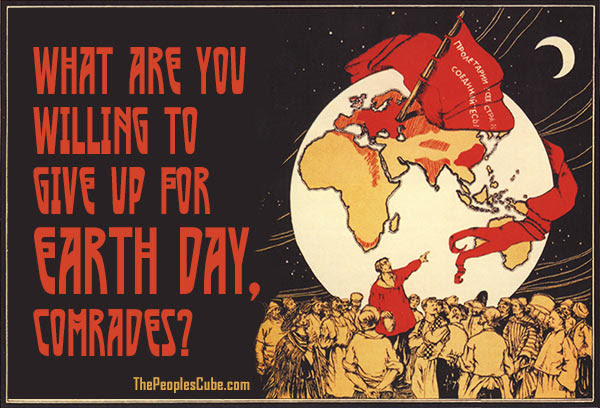 EDITORS NOTE: This column originally appeared on The Peoples Cube.
https://drrichswier.com/wp-content/uploads/earth-day-peoples-cube.jpg
374
600
Oleg Atbashian
http://drrich.wpengine.com/wp-content/uploads/logo_264x69.png
Oleg Atbashian
2015-04-20 16:40:21
2015-04-20 16:42:44
What Are You Willing to Give Up for Earth Day?