Reduce Firearm Ownership, Say Anti-Gun Researchers
A new "study" by David Swedler, trained at the (gun control crusader Michael) Bloomberg School of Public Health, and co-authored by longtime anti-gun researcher David Hemenway, of the Harvard School of Public Health, uses rigged methodology to conclude that law enforcement officers are more likely to be murdered in states that have higher levels of gun ownership. As a result, Swedler and Hemenway say, "States could consider methods for reducing firearm ownership as a way to reduce occupational deaths of LEOs."
In what may be the understatement of the century, Swedler and Hemenway concede that it's "possible" that law enforcement officers are more likely to be murdered than other Americans because they have "more frequent encounters with motivated violent offenders." To say the least. According to the FBI, from 2004 to 2013, 46 percent of officer murderers had prior arrests for crimes of violence, 63 percent had been convicted on prior criminal charges, 50 percent had received probation or parole for prior criminal charges, and 26 percent were under judicial supervision, including probation, parole, and conditional release, at the time of the officers' murders.
On the other hand, Swedler and Hemenway say, law enforcement officers are able to defend themselves because they carry handguns, an argument that on its face endorses the carrying of handguns by private citizens, which is certainly not what the anti-gunners intended.
In painstaking academic detail, economist John Lott shows that Swedler and Hemenway skewed their study by comparing the number of law enforcement officers murdered with firearms in each state, to the percentage of suicides committed with firearms in each state, pretending that the latter accurately measures each state's level of gun ownership. Additionally, the anti-gun researchers didn't extend their comparisons over time to determine whether law enforcement officer murders increased or decreased in each state or did so in comparison to other states.
The anti-gunners also try to measure gun ownership with survey data, which is problematic, because over-reporting takes place in states where people are more supportive of gun ownership, while under-reporting takes place in states where anti-gun viewpoints are more common.
For the obvious reason, Swedler and Hemenway didn't point out that law enforcement officer murders have been decreasing while ownership of firearms has been increasing dramatically. From 1993 to 2013, the most recent year of data from the FBI and BATFE, the annual number of law enforcement officers feloniously killed with firearms dropped 61 percent, while the American people acquired 140 million new firearms. In 2013, the number of law enforcement officers feloniously killed with firearms was less than half the annual average of the last 20 years.
That, however, is not what you want to point out if you're jockeying for a cut of the $10 million that President Obama has asked Congress (p. 8) to throw at so-called "gun violence research" or to continue to promote an anti-gun agenda.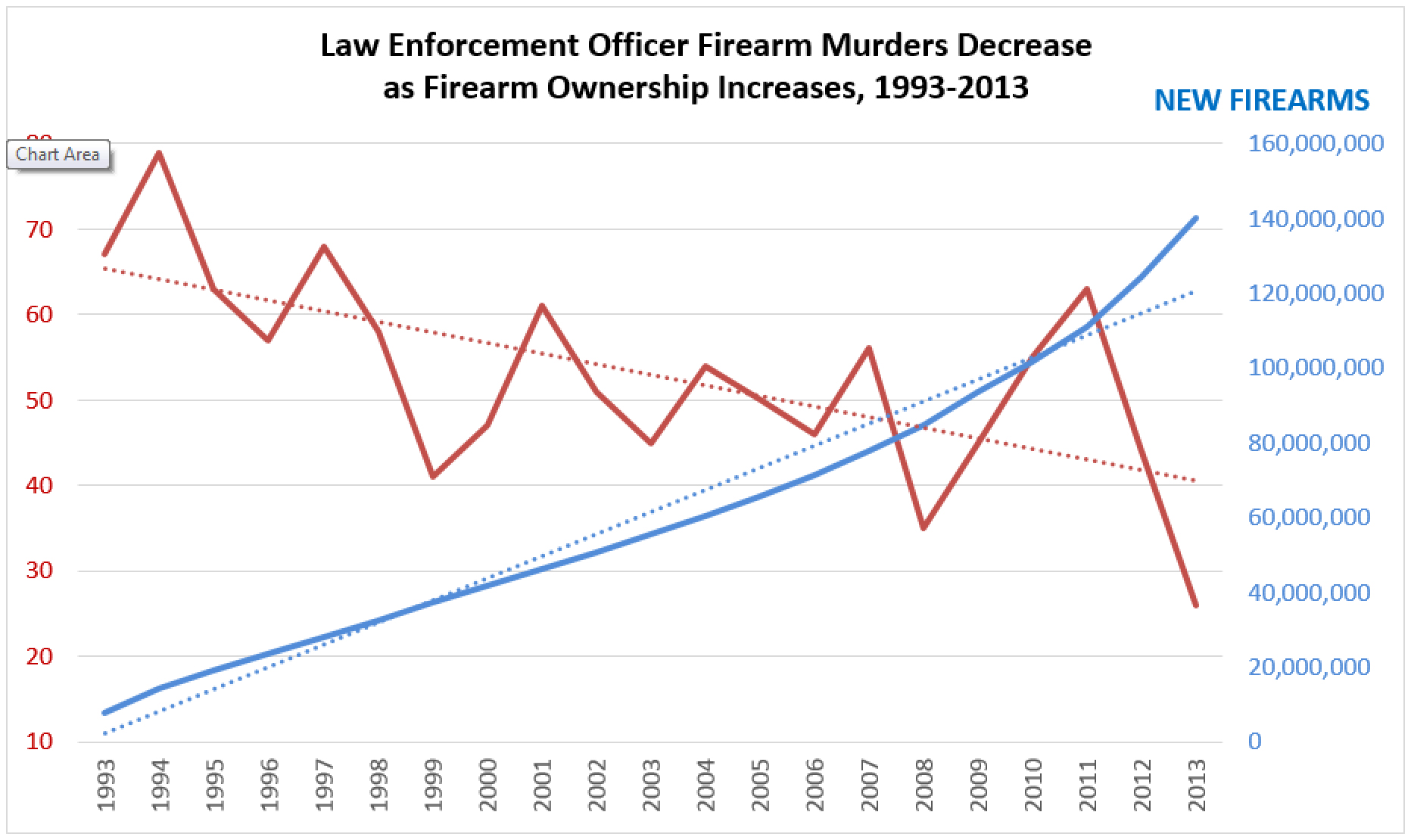 EDITORS NOTE: This column originally appeared on the NRA/ILA website.
https://drrichswier.com/wp-content/uploads/colt-with-american-flag-paint-job-e1440341447399.jpg
360
640
Dr. Rich Swier
http://drrich.wpengine.com/wp-content/uploads/logo_264x69.png
Dr. Rich Swier
2015-08-23 10:50:57
2015-08-23 10:51:44
Reduce Firearm Ownership, Say Anti-Gun Researchers