Some decades ago a wise man said, "The fascists of tomorrow will be called anti-fascists." It seems that tomorrow is already here and we may as well say, "The fascists of today call themselves anti-fascists."
Antifa looks, acts, and thinks like the fascist stormtroopers, being a mirror image of whom they allegedly hate.
Urban Dictionary offers many good definitions of Antifa.
A flashback to last year's elections:
Achtung! Bernie Sanders goes Nazi chic with Shepard Fairey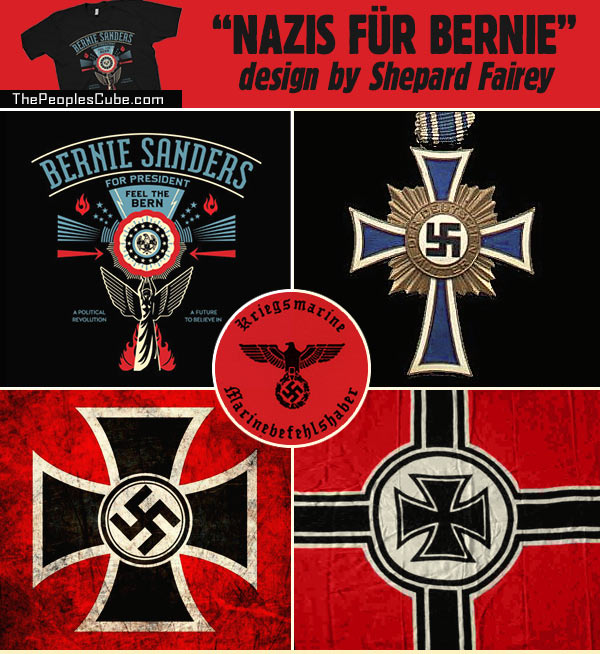 DID YOU KNOW…?
Antifa Flag Comes Directly From The German Communist Party In 1932

Everything these Alt-Left thugs use today is exactly the same as back then. Their logo, weaponized words, double standards and lack of logic. Its all from Germany 85 years ago. They call everyone Nazis because that is who their opposition in Germany was. Antifa prefaced The National Socialist German Workers' Party and empowered them. Without Antifa's violence the Nazi party would have never won anything.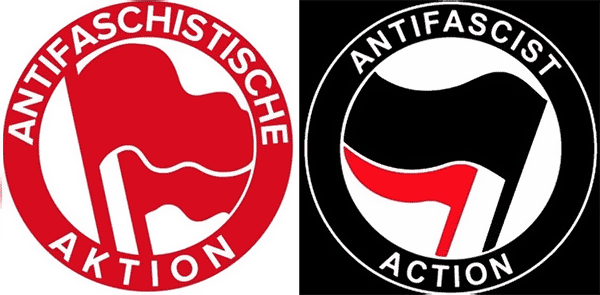 I might add that German Communists helped Hitler to come to power. On Stalin's orders they boycotted the Social Democrats, splitting the vote and allowing Hitler to win. According to modern historical studies, Stalin wanted Hitler to start a war in Europe and bloody up the entire continent, so that later the USSR could move in with their tanks and take over the weakened European countries. Hitler had figured out that plan and attacked the USSR first, knowing full well that he was taking a big risk – but Stalin left him with no choice.
In other words, Nazism was instrumental in the Communist plan to take over the world. Not everything went according to the plan, however, and Stalin was only able to take over half of Europe instead of its entirety. The Cold War was only a continuation of that same effort by other means. The bogeyman of "fascism" in the modern world was mainly a KGB creation, to give credence and moral authority to the Antifa-like groups – the stormtroopers of the communist revolution.
RELATED ARTICLES: 
Museum of Nothing: Everything offensive has been removed
Love and Hate: Instructional Video
Silicon Valley brings us Next Tuesday
EDITORS NOTE: This political satire by Red Square originally appeared on The Peoples Cube.
https://drrichswier.com/wp-content/uploads/CHE-DOLF.jpg
360
640
Oleg Atbashian
http://drrich.wpengine.com/wp-content/uploads/logo_264x69.png
Oleg Atbashian
2017-08-22 06:10:05
2017-08-22 06:12:06
Antifa's true icon: Che-Dolf