On Tuesday  far left hacks the righteous attacked First Lady Melania Trump for wearing heels to board Marine One in the South Lawn on the way to inspect the damage the in Texas.
Leading the charge was Lynn Yaeger from Vogue Magazine.
Melania Trump's Hurricane Stilettos, and the White House's Continual Failure to Understand Optics
Lynn Yaeger is a contributing fashion editor to Vogue.com and a contributing writer to Vogue. She is a former fashion reporter for The Village Voice, having worked for the paper for 30-years. Her column, "Elements of Style", was renamed "Frock Star" in February 2007. Yaeger is also a regular contributor to The New York Times, Style Magazine, American Vogue, Travel & Leisure, and countless antiques & collectibles dealers.
Yaeger is also a fashion columnist for Full Frontal Fashion, a style website in association with Sundance Channel. Melania Trump boarded Air Force One wearing a pair of towering pointy-toed snakeskin heels better suited to a shopping afternoon on Madison Avenue or a girls' luncheon at La Grenouille.
A spokesperson for FLOTUS said she has other shoes to change into on the plane—and one sincerely hopes there is a pair of leopard-print Wellies-in-waiting to get her from the tarmac to the limo.
But what kind of message does a fly-in visit from a First Lady in sky-high stilettos send to those suffering the enormous hardship, the devastation of this natural disaster?
Here is a montage showing Ms. Yaeger displaying her "Blend-in with the People" style.
Watch the Current Truth change before our eyes when the same journalist reports on two different women's fashion.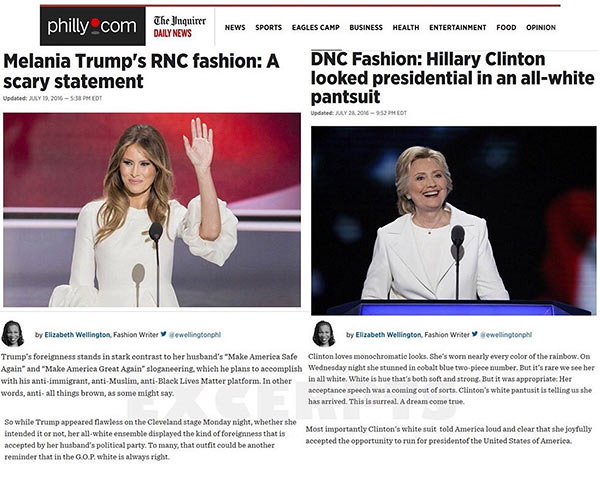 A proposal for a new Hitler video titled, "Fashionista Lynn Yaeger finds out that Melania Trump wore stilettos."
(That camel toe on her lip sure looks like Hitler's 'tache).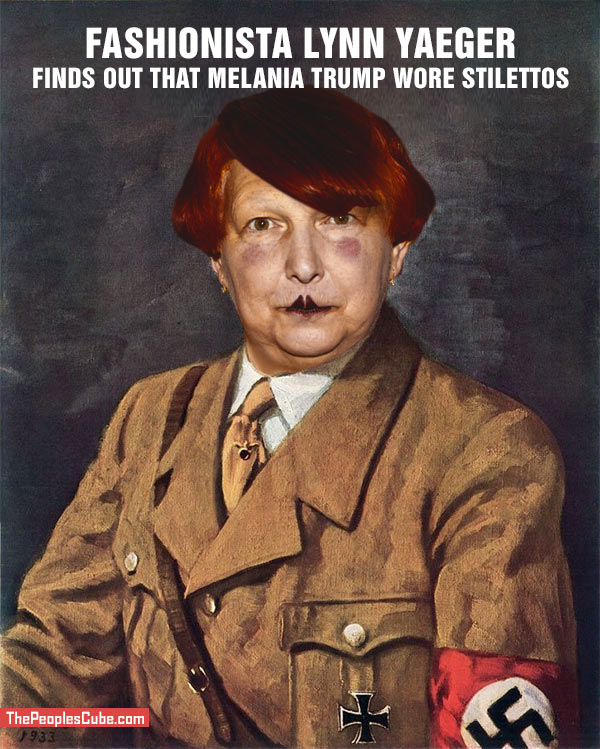 RELATED ARTICLES:
#FreeTheNipple! Except Melania Trump's
Governor Blagojevich is Denounced!
Thoughtcriminal Böhmermann denounced!
EDITORS NOTE: This political satire by Antonio Salazarinski originally appeared on The Peoples Cube.
https://drrichswier.com/wp-content/uploads/43180-Melania_Denounced.jpg
370
640
Oleg Atbashian
http://drrich.wpengine.com/wp-content/uploads/logo_264x69.png
Oleg Atbashian
2017-08-31 20:05:20
2017-08-31 20:14:26
Melania Trump denounced by Vogue fashion editor