For birth moms who want to place their children with married moms and dads, that option is now at risk.
Across the country, liberal activists are accusing faith-based adoption and foster care agencies of discrimination because they prefer placing children with married moms and dads. The situation has left faith-based agencies with a difficult choice: violate their religious beliefs about sexuality and marriage, or shut down.
"I would never tell a gay couple, 'Oh, because you two are in love with each other and you're not a heterosexual couple, don't even think about adopting a child.' That's not what I'm saying," Kelly Clemente, a birth mother who placed her son for adoption, told The Daily Signal. "What I'm saying is that birth mothers have the right to choose."
In at least four states, birth mothers don't have the right to choose because faith-based agencies were pressured to close. In Illinois, after serving the community for more than 50 years, Catholic Charities was forced to stop its adoption and foster care services. At least 2,000 children were disrupted, and thousands more foster parents were lost as a result.
In all of these states, plenty of agencies exist that will facilitate adoptions to same-sex couples. But still, groups like the American Civil Liberties Union (ACLU) are moving forward with lawsuits trying to force all adoption providers, including those of faith, to facilitate adoptions to same-sex couples.
As a result, some are turning to the federal government to pass the Child Welfare Provider Inclusion Act, a bill that would protect the rights of birth moms, and the rights of faith-based adoption and foster care agencies to continue operating in accordance to their religious beliefs.
"Birth mothers already sacrifice so much," said Clemente. "I don't think that they should have to sacrifice their faith, too."
Learn more in the video above.
VIDEO TEAM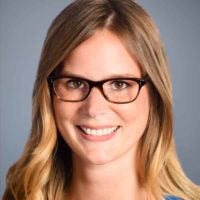 Kelsey Harkness is a senior news producer at The Daily Signal and co-host of "Problematic Women," a podcast and Facebook Live show. Send an email to Kelsey. Twitter: @kelseyjharkness.
RELATED ARTICLE: I Had an Abortion. Here's the Message I Want to Share With Other Women.
Dear Readers:
With the recent conservative victories related to tax cuts, the Supreme Court, and other major issues, it is easy to become complacent.
However, the liberal Left is not backing down. They are rallying supporters to advance their agenda, moving this nation further from the vision of our founding fathers.
If we are to continue to bring this nation back to our founding principles of limited government and fiscal conservatism, we need to come together as a group of likeminded conservatives.
This is the mission of The Heritage Foundation. We want to continue to develop and present conservative solutions to the nation's toughest problems. And we cannot do this alone.
We are looking for a select few conservatives to become a Heritage Foundation member. With your membership, you'll qualify for all associated benefits and you'll help keep our nation great for future generations.
https://drrichswier.com/wp-content/uploads/kelly-clemente-1.jpg
312
600
The Daily Signal
http://drrich.wpengine.com/wp-content/uploads/logo_264x69.png
The Daily Signal
2018-05-14 06:53:49
2018-05-14 06:54:40
VIDEO: How Liberal Activists Are Shutting Down Choice for Birth Moms