First Breitbart and then Time reported earlier today that mysterious photoshopped posters of Ted Cruz, showing the Texas Republican senator shirtless, with edgy tattoos, smoking a cigarette, were plastered around various locations in Los Angeles, like the Beverly Hilton Hotel, late Thursday night.
Time Magazine writes: Of course, Cruz is tattooed in poster form only. Some mischief-maker posted his photoshopped (we think!) image around town ahead of a speaking engagement for the congressmen at Beverly Hills' Claremont Institute. The event was scheduled for Saturday night.
Likely a prank, the stunt prompted a tongue-and-cheek response from the Senator: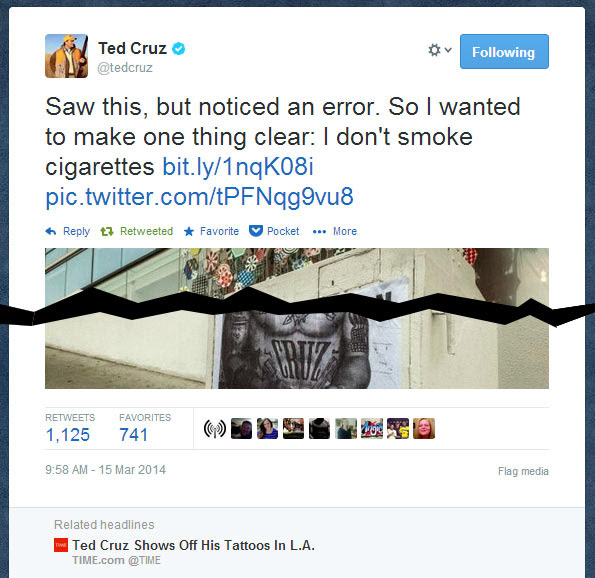 They think it's prank? How much do we know about Ted Cruz, really? Could it be that this picture is actually a selfie texted from his phone to a mysterious Tea Party knockout, and his official bio is nothing more than a fictionalized alternative reality?
According to our sources, Ted Cruz is actually a twin brother of Chuck Norris, and his powers extend beyond the realm of what can be grasped by mere mortals.
We know for a fact that…
– When Al Gore invented the Internet, his inbox already contained three unread emails from Ted Cruz.

– Ted Cruz has a quadruple citizenship in the U.S., Canada, Middle-earth and Westeros.

– If you superimpose Ted Cruz's fingerprints, the resulting image will be the Seal of the President of the United States.

– When Ted Cruz got bit by a rattle snake, the snake had to sign up for Obamacare but couldn't get through the login screen and died after a week of pain and agony in front of the computer.

– Ted Cruz has already won the presidential election in 2016 with a roundhouse kick in the polls; the pollsters just haven't developed the technology to look that far into the future.
More facts and documentary footage to follow.
https://drrichswier.com/wp-content/uploads/cruz-tatooed.jpg
435
600
The Peoples Cube
http://drrich.wpengine.com/wp-content/uploads/logo_264x69.png
The Peoples Cube
2014-03-15 16:35:48
2014-03-15 18:06:33
Ted Cruz: Other than Cigarette Smoking, the Pic is Accurate