Conceived, developed, and dropped on us from the bowels of Simon & Schuster Books For Young Readers, this beautifully illustrated picture book (hardcover, paperback, and audio) is now available at most public libraries and bookstores, as well as on Amazon, Barnes & Noble,KidzWorld, Scholastic, and even ChristianBook.com.
All of the above sites feature this Simon & Schuster editorial review, or at least parts of it:
Ever since he was a young boy, hope lived inside Barack Obama. Learn about the many places he lived as a child – from the beaches of Hawaii to the streets of Chicago, from the jungles of Indonesia to the plains of Kenya – and how he held on to hope through it all.

Even as a child, Barack knew he wasn't quite like anyone else. Through his many journeys, he found the ability to listen to hope, follow his dreams and become what he was meant to be: a bridge to bring people of all races, religions and cultural background together in peace and freedom.

This is the moving story of an exceptional man who has motivated not only Americans, but people all over the world to believe with him that ever[sic] one of us has the power to change ourselves and change the world.
Having made its first splash in 2008, this book has only grown in popularity among public school teachers and Common Core aficionados, marking the collective list of required reading material, with lesson plans distributed through teachers' websites.
This lesson plan, for example, was prepared and distributed by a young and very enthusiastic teacher who, judging by the plan's Vocabulary Definitions, doesn't know the difference between verbs, adjectives, adverbs, and nouns, but that's unimportant – her neglect for the oppressive, patriarchal, and Eurocentric grammar pales in comparison with her immense devotion to the sitting preezy of the United Steezy.
In case you think that the hyperbolic flummery bestowed upon Barack Obama has no precedent in the American tradition and culture, this isn't the first such collaborative project between Nikki Grimes and Bryan Collier. Thus, when George W. Bush was elected president in 2000, they published a similar book titled George W. Bush: Son of Promise, Child of Hope, which was just as enthusiastically promoted by the Teachers Union members in America's classrooms.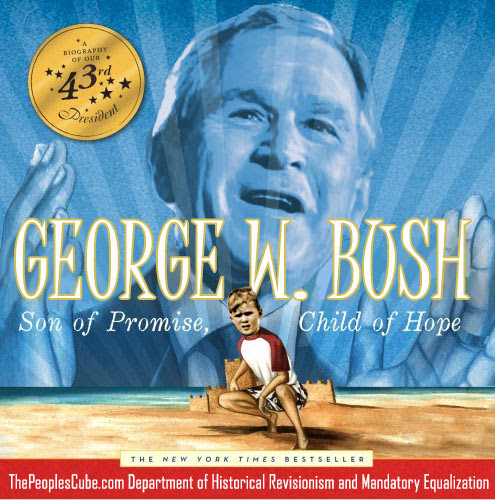 And before that Simon & Schuster Books For Young Readers, in close cooperation with The People's Cube Department of Historical Revisionism and Mandatory Equalization, spearheaded the publication of such popular educational titles as
Bill Clinton: Son of Promise, Child of Hope
Ronald Reagan: Son of Promise, Child of Hope
Jimmy Carter: Son of Promise, Child of Hope
Gerald Ford: Son of Promise, Child of Hope
Richard Nixon: Son of Promise, Child of Hope
…and so on, going as far back as Calvin Coolidge, Son of Promise, Child of Hope.
EDITORS NOTE: This column originally appeared on The Peoples Cube.
https://drrichswier.com/wp-content/uploads/obama_blue.jpg
500
495
The Peoples Cube
http://drrich.wpengine.com/wp-content/uploads/logo_264x69.png
The Peoples Cube
2013-12-09 15:51:46
2013-12-10 02:39:34
Barack Obama: Son of Promise, Child of Hope