The Official Democratic Store sent out an email on May 23, 2018 introducing it's "Democratic collection" of Gay pride shirts, lapel pins and campaign buttons.
On the same day the National Center on Sexual Exploitation (NCOSE) reported:
The producer of the children's film, "Show Dogs," has pulled the film from theaters around the world and will recut it, removing two scenes that seemed to groom children for sexual abuse. This film is about a dog that goes undercover at a dog show competition – harmless enough except for the story arc where the only way for him to win and save the day was to allow unwanted touching of his genitals, while his coach practiced it with him and encouraged him to just go to his "zen" place. Yes…I know…it is hard to believe this was in a children's film, to begin with. [Emphasis added]
You may read more about the film "Show Dogs" on the NCOSE website by clicking here.
What does homosexuality have to do with child abuse?
PubMed.gov is a resource on research done on homosexuals and child abuse. PubMed.gov lists a 2001 study by the California School of Professional Psychology titled "Comparative data of childhood and adolescence molestation in heterosexual and homosexual persons." The abstract reads:
In research with 942 nonclinical adult participants, gay men and lesbian women reported a significantly higher rate of childhood molestation than did heterosexual men and women. Forty-six percent of the homosexual men in contrast to 7% of the heterosexual men reported homosexual molestation. Twenty-two percent of lesbian women in contrast to 1% of heterosexual women reported homosexual molestation. This research is apparently the first survey that has reported substantial homosexual molestation of girls. Suggestions for future research were offered. [Emphasis added]
The following is a graphic from a CDC (Centers for Disease Control and Prevention) online slide presentation, "HIV Surveillance in Adolescents and Young Adults"  breaks down the incidence of HIV among young men ages 13-24. In 2011, an astonishing 94.9 percent of HIV diagnoses among teenage boys (13-19-years-old) were linked to homosexual ("male-to-male") sex. And 94.1 percent of the cases among young men ages 20-24 were from "gay" sex: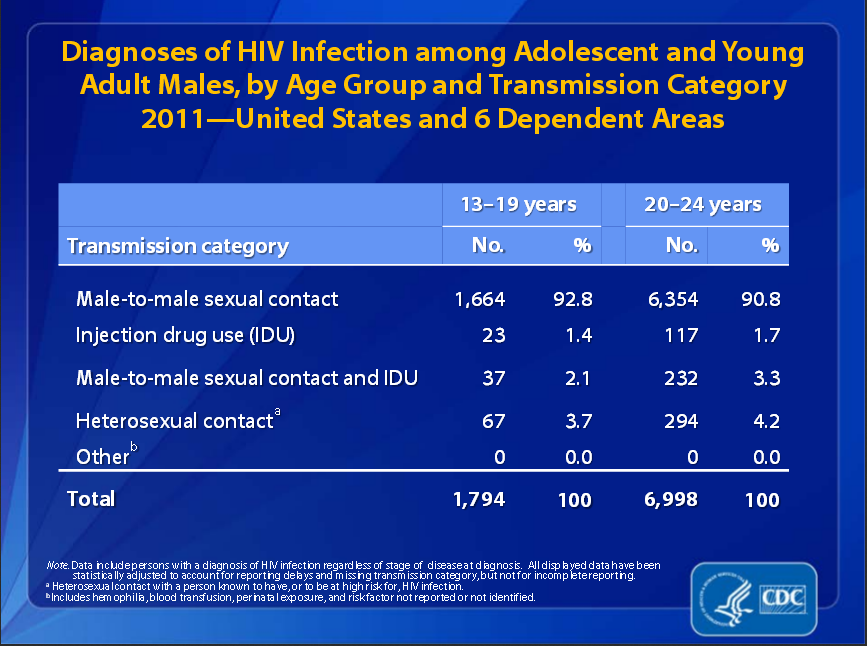 How pedophilia is becoming mainstream
We have reported on efforts by groups such as B4U-ACT and the Gay, Lesbian, Straight Education Network (GLSEN) to indoctrinate children into believing that sex with men by children is not only normal but encouraged (watch the two videos below for a history of these groups).
Dr. Judith Reisman in her 2016 column "They're mainstreaming pedophilia!" wrote:
Alfred Kinsey's ongoing sexual anarchy campaign has no end in sight.

Matt Barber, associate dean of the Liberty University School of Law, and I attended the "B4U-ACT" pedophile conference Aug. 17 [2015]. To eliminate the "stigma" against pedophiles, this growing sexual anarchist lobby wants the American Psychiatric Association (APA) to redefine pedophilia as a normal sexual orientation of "Minor-Attracted Persons."

Adhering to the Kinsey principle of lulling "straights" into a false sense of security, pedophile dress was largely conservative – short hair, jackets, some ties and few noticeable male ear piercings.

Matt Barber and I sat in the back of the meeting room among roughly 50 activists and their "mental health" attending female enablers. "Pedophilia, Minor-Attracted Persons, and the DSM: Issues and Controversies," keynoted "Fred Berlin, M.D., Ph.D., as founder, National Institute for the Study, Prevention and Treatment of Sexual Trauma; Johns Hopkins Sexual Disorders Clinic."

However, the sex clinic was initially founded by John Money, Ph.D., to give judges "leeway" to keep child molesters out of jail. Money (deceased), a pedophile advocate, also called for an end to all age-of-consent laws. Dr. Berlin was his disciple.
The Guardian's Catherine Shoard reports:
On Tuesday [May 22, 2018] a new report from advocacy group GLAAD found only 12.8% of mainstream films featured LGBTQ characters. They have called for the number to rise to 50% by 2024.
Democrats and Hollywood are focused on fundamentally transforming our children into gender confused targets for pedophiles.
Time to stop the sexual exploitation of our most vulnerable, our underage children.
RELATED ARTICLES: 
CDC: 94 to 95 Percent of HIV Cases among Boys and Young Men Linked to Homosexual Sex
Goal of "gay" programs in schools: Persuade kids to "come out" early as homosexuals. Here's how they do it —
Perverts, pedophiles and pederasts in high offices
RELATED VIDEOS: 
Controversy Over Push to Redefine Pedophilia.
Homosexuality
https://drrichswier.com/wp-content/uploads/stop-the-abuse-pretty-please-child.jpg
360
640
Dr. Rich Swier
http://drrich.wpengine.com/wp-content/uploads/logo_264x69.png
Dr. Rich Swier
2018-05-24 06:39:48
2018-05-24 11:29:41
Democrats and Hollywood Mainstreaming Pedophilia