We have reported on the push to promote underage sex and pedophilia by socialist Democrats. Well now we see ads promoting "sex with everyone" ads appearing in New York City.
In an ADWEEK article titled "Planned Parenthood Wants to Protect Your 'Freedom to F*ck' With New Fundraising Effort: The campaign targets younger folks in NYC" Katie Richards reports:
Dear New Yorkers: Planned Parenthood of New York City has an important message for you all. If you want to continue to love and sleep with the person (or people) of your choosing, you might want to think about making a donation to the organization's NYC chapter (which served over 60,000 New Yorkers in 2017).
The Official Democratic Store sent out an email on May 23, 2018 introducing it's "Democratic collection" of Gay pride shirts, lapel pins and campaign buttons.
On the same day the National Center on Sexual Exploitation (NCOSE) reported:
The producer of the children's film, "Show Dogs," has pulled the film from theaters around the world and will recut it, removing two scenes that seemed to groom children for sexual abuse. This film is about a dog that goes undercover at a dog show competition – harmless enough except for the story arc where the only way for him to win and save the day was to allow unwanted touching of his genitals, while his coach practiced it with him and encouraged him to just go to his "zen" place. Yes…I know…it is hard to believe this was in a children's film, to begin with. [Emphasis added]
You may read more about the film "Show Dogs" on the NCOSE website by clicking here.
What does homosexuality have to do with child abuse?
PubMed.gov is a resource on research done on homosexuals and child abuse. PubMed.gov lists a 2001 study by the California School of Professional Psychology titled "Comparative data of childhood and adolescence molestation in heterosexual and homosexual persons." The abstract reads:
In research with 942 nonclinical adult participants, gay men and lesbian women reported a significantly higher rate of childhood molestation than did heterosexual men and women. Forty-six percent of the homosexual men in contrast to 7% of the heterosexual men reported homosexual molestation. Twenty-two percent of lesbian women in contrast to 1% of heterosexual women reported homosexual molestation. This research is apparently the first survey that has reported substantial homosexual molestation of girls. Suggestions for future research were offered. [Emphasis added]
The following is a graphic from a CDC (Centers for Disease Control and Prevention) online slide presentation, "HIV Surveillance in Adolescents and Young Adults"  breaks down the incidence of HIV among young men ages 13-24. In 2011, an astonishing 94.9 percent of HIV diagnoses among teenage boys (13-19-years-old) were linked to homosexual ("male-to-male") sex. And 94.1 percent of the cases among young men ages 20-24 were from "gay" sex: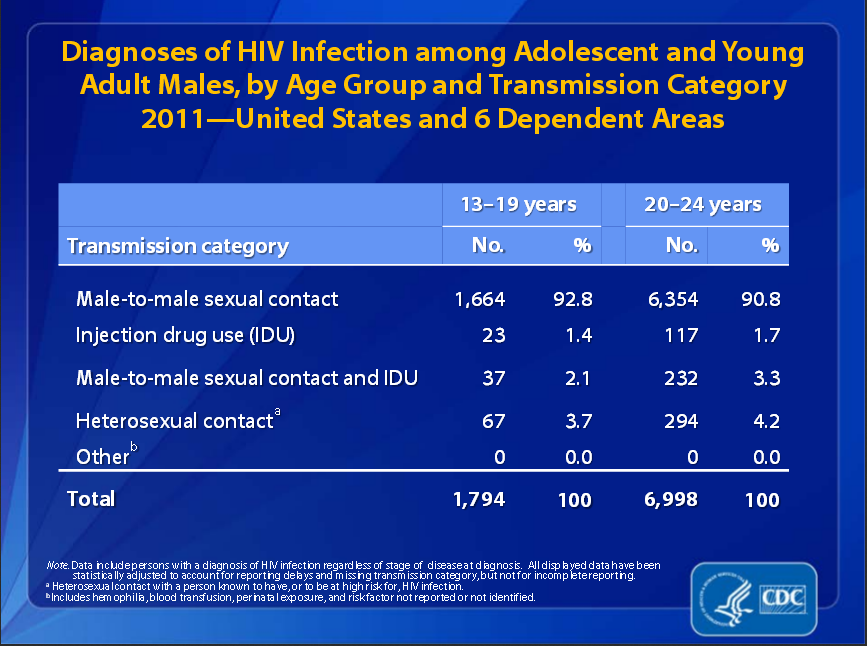 Democrat Socialists (formally known as the Democrat Party) are pushing underage sex. Their bed mate is Planned Parenthood who is now publicly promoting "the freedom to f***.
Does it get any worse than this?
RELATED ARTICLES:
REPORT: NY Governor Cuomo Grants Conditional Pardons To Dozens Of Sex Offenders. Guess Why.
Court Drops Bogus Charges Against David Daleiden for Exposing Planned Parenthood Baby Part Sales
https://drrichswier.com/wp-content/uploads/Planned_Parenthood_DNC.jpg
338
600
Dr. Rich Swier
http://drrich.wpengine.com/wp-content/uploads/logo_264x69.png
Dr. Rich Swier
2018-07-24 05:47:51
2018-07-25 14:10:21
Planned Parenthood targets 'younger folks' with F*** Everyone campaign