One, two, three, four!  What are we protesting for?  There seems to be some confusion on campuses across the nation.  But we do know that so far groups on 73 campuses have joined the Black Liberation Collective and issued "demands."  Like a lover's spat gone on too long, the aggrieved party hardly knows what it is that is bothering them.  We hear that there is "institutional racism" that permeates campuses; "microaggressions" abound.  Long-standing sculptures and paintings suddenly make students hyperventilate as they undergo collective PTSD syndrome.
It's even in a name. Over at Lebanon Valley College in Pennsylvania the Black Student Union is demanding the renaming of Lynch Memorial Hall. Inside Higher Edreports, "Students who are pushing for the name change say that the name 'Lynch' has racist associations because of lynching."
A Memorial to Lynching? Is the building a memorial to the act of lynching? "The building is named for Clyde A. Lynch, an alumnus who was president of the college from 1932 to 1950, and who died in office. He is credited with helping to keep the college functioning and growing during the Depression, no easy task for a small college without a large endowment."
Shh, don't tell them about our new Attorney General.  They might suffer trauma at hearing the name Loretta Lynch.  Or what about Lynchburg?  Should the city be renamed?  Yes, we have a problem in education, but it has little to do with racial discrimination and everything to do with intellectual discernment.  If anything, we need to be more discriminating about whom we admit to college.
At Emory University where I taught for seven years, the administration has promised all kinds of things, such as hiring more faculty from the preferred groups and holding more and more expensive and time-consuming workshops that breed racial resentment.  (I think I see the activists' strategy!)
Having spent so many years on campuses I like to think of myself as inured to such craziness.  But a couple things jumped out in the Emory administration's response.  (Apparently, the Emory students' "Wall of Love" was not enough.)  Rod Dreher at American Conservative was particularly alarmed by capitulation to the demand that students judge professors on end-of-course evaluations with
at least two open-ended questions such as: "Has this professor made any microaggressions towards you on account of your race, ethnicity, gender, sexual orientation, language, and/or other identity?" and "Do you think that this professor fits into the vision of Emory University being a community of care for individuals of all racial, gender, ability, and class identities?"
Student evaluations report on faculty sensitivity.  In other words, students will evaluate faculty not on their teaching ability, but on their microaggressive-ness and fitting "the vision" of a "community of care."
Sensitivity to Need for Psychological Services: The Dissident Prof, however, was struck by the fact that the administration suggested that the need for psychological counseling services is greater among "students of color."  They are happily capitulating to "demands" that more resources be available to Black students through Counseling and Psychological Services (CAPS).
The administrators, Ajay Nair, Senior Vice President and Dean of Campus Life, and Claire E. Sterk, Provost and Executive Vice President for Academic Affairs, proclaim, "Recognizing that mental health is an important part of student success, last spring we created a new executive-level position to lead the CAPS office."
They note that currently, "half of the CAPS staff are people of color and 43 percent of the clients served last year were students of color, including 13 percent who identified as Black or African American."  This seems to be a disproportionate number compared to the student population.
The Wall of Love: In addition to improvements in "bias incident reporting" (yes, there are teams to handle that on campuses nationwide) more academic support, diversity inisatives, increased representation in faculty, staff, and administrators, and an expansion of GED programs to the cafeteria staff, the administrators remind protestors that The Wall of Love was led by students and supported by the Office of Multicultural Programs and Services.  It was offered as "as a space for healing in light of racist comments on social media."
More healing promised:  As the traumatic week of final exams approaches, a program is scheduled "to help students prepare for exams and engage in self-care."
"My little pony friendship is magic group shot r" by Source. Licensed under Fair use via Wikipedia – Happiness Boot Camp for Black Students: Even more healing is planned for the spring semester: "For spring semester, the Office of Health Promotion (OHP) is developing a Happiness Boot Camp for Black students as part of Flourish Emory."  (Maybe they should just give a pony to every student.)
They conclude, "We look forward to further dialogue and collaborative planning on these issues in the very near future."
At Hamilton College: Closer to where I live now, Hamilton College's The Movement was ridiculed by the Daily Beast for its "demands" presented in such style: "We, the Students of Hamilton College, demand that white faculty are discouraged from leading departments about demographics and societies colonized, massacred, and enslaved."  The college website, however, described the goings-on as "Hamilton College Student Group Joins National Conversation":
On Tuesday, Nov. 17, Hamilton's Days-Massolo Center sponsored the first of a series of "crucial conversations" about students and faculty of color, inclusivity, intolerance and offensive social media posts. About 85 people attended.

The next afternoon, students marched from the Kirner- Johnson Building to Burke Library and Buttrick Hall, where the President's office is located. On Tuesday, Dec. 1, an anonymous group of students calling themselves the Movement sent a list of demands to college administrators. That afternoon about two dozen students came to the regularly scheduled monthly faculty meeting; some read from the Movement's demands and others asked questions or made statements. The meeting was peaceful and discussion was civil.
That's a more than slightly different take than even the student newspaper The Spectator had.  Their photos showed students at the faculty meeting in t-shirts labeled "token"–clearly there to "occupy" the meeting and take it over.  Another photo shows students occupying Buttrick Hall, crowding inside and disrupting workday activities.
Editor-in-chief of Enquiry Mike Adamo suggested that Stewart could learn what "a discussion is, because it sure doesn't involve 'demands.'" Adamo is one of the AHI undergraduate fellows. In September, he questioned Dean of Faculty, Patrick Reynolds, and Dean of Students, Nancy Thompson, about their invitation to Rhodessa Jones.  He received a generic reply from Phyllis Breland of the Days-Massolo Center, which did not even mention his request for "comment on how programming like this reflects the quality of political discussion at Hamilton."  That was after he quoted a positive review in SF Gate that described Jones's film Birthright in which women scream, " 'Burn, mother—, burn.' . . . .it is screamed, yelped, escaping primally from the women's vocal cords. Projected onto the back of the stage is an image of the White House, and then picture after picture of Republican political figures — Newt Gingrich, Rick Santorum, Ted Cruz."
Executive Director of AHI (which sponsors Enquiry) and Hamilton College History Professor Robert Paquette made a comment on the college website post about the nationwide student "conversation."  Paquette noted that during his 35-year tenure at Hamilton, he has seen
no dearth of conversations by Joan Hinde Stewart or her administrators when it comes to having conversations with groups with what might be called a progressive agenda. She intends to claim "diversity" as one of her greatest legacies of her Hamilton presidency. She has no intention of being stand-offish to those who claim to be acting for the benefit of historically underprivileged groups.
Students with a right-of-center bent, however, "seem to be unworthy of conversation," he added.
Indeed, deans at Hamilton did not deem an inquiry by an AHI undergraduate fellow regarding Rhodessa Jones's appearance worthy of "conversation," or even the courtesy of a reply.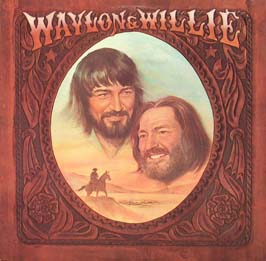 "JenningsNelsonWaylon&Willie" by Source. Licensed under Fair use via Wikipedia
Laugh, cry, or sing?  Alas, one does not know whether to laugh or cry.  But a song came to mind, a country Western song, as so often happens to the Dissident Prof, especially as she cries into her beer over the state of the academy.  Lyrics follow below (with apologies to Ed Bruce, and Waylon and Willie).  Most will know the tune when they see the words.  But if not, there are links below, including to some karaoke music so you can sing along:
Mamas, Don't Let Your Babies Go to College, by Mary Grabar, the Dissident Prof:
Students ain't easy to love and they're harder to mold
They'd rather give you a song than high grades or gold
Cry-baby babbles and old faded slogans
And a complaint begin a new day
If you don't understand him, you're racist
And you should just go away.

Mamas, don't let your babies go to college
Don't let 'em take classes and spend them big bucks
Make em be plumbers and welders and such
Mamas, don't let your babies go to college
Cause they'll never stay sane; they're always deranged
Even with someone they love

Students like sparkly new dorm rooms and clear trigger warnings
Nice shiny trophies and victims and talks late in the night
Them that don't know them will hate them and them that do
Sometimes won't know how take them
No one's wrong, they're just different but their pride won't let them
Do things to make you think they're bright.

Mamas, don't let your babies go to college
Don't let 'em take classes and spend them big bucks
Make em be plumbers and welders and such
Mamas, don't let your babies go to college
Cause they'll never stay sane; they're always deranged
Even with someone they love.
Sing along with karaoke music by clicking here.
The original version by Ed Bruce by clicking here.
The Waylon Jennings and Willie Nelson version by clicking here.
RELATED ARTICLE: College Student Takes a Stand Against Campus Free Speech Policy, Sues School
EDITORS NOTE: The featured image is courtesy of the Black Liberation Collective.
https://drrichswier.com/wp-content/uploads/black-liberation-collective-members-e1449916787470.jpeg
382
640
Dr. Mary Grabar
http://drrich.wpengine.com/wp-content/uploads/logo_264x69.png
Dr. Mary Grabar
2015-12-12 05:40:21
2015-12-12 11:14:35
Silly Season at School, Protests and a Cowboy Song