Tampa, FL – The Education Coalition announces a 9/11 Remembrance in Tampa. Randy McDaniel with the Coalition says: "This gathering in Tampa is both a commemoration of the attack on America by Islamic Jihadists and a protest against terror organization."
McDaniel explains, "CAIR/HAMAS is a terrorist organization and it's Tampa spokesman, Hassan Shibly has been permitted to speak in Tampa schools. We believe that this is offensive to the memory of 3000 innocent Americans killed by Islamic terrorists on 9/11/2001, and it is offensive that Hassan Shibly, a representative of CAIR is allowed to address our children. The Hillsborough School Board has enabled Shibly to speak in the Steinbrenner School and they have refused to reverse course.
"We have assembled great speakers and patriots to speak out against CAIR/HAMAS in our schools and against the goal of Radical Islam to impose Sharia Law in America," notes McDaniel.
A list of speakers and the program agenda follows: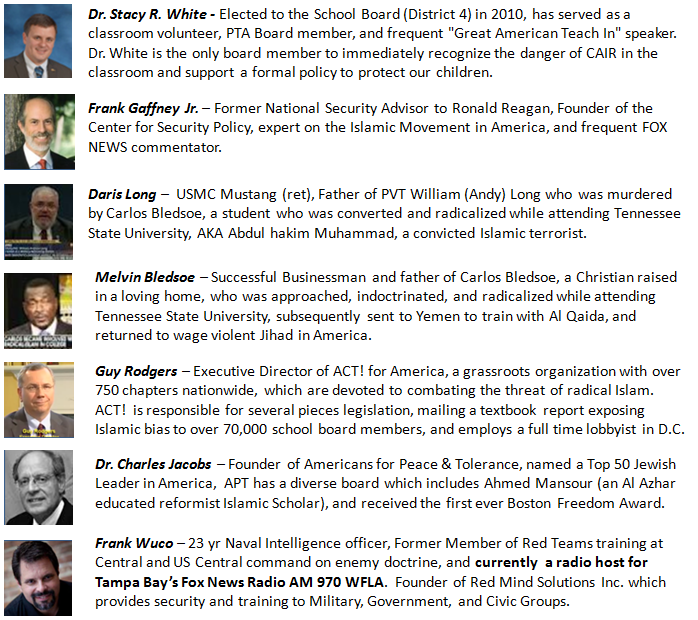 ITINERARY (NOTE: Buses for travel can be arranged from select cities):
11:30 am: Attend the annual 9/11 Prayer Vigil with Jesten Peters at Joe Chillura Park across the street from the Hillsborough County Center, 601 E. Kennedy Blvd., Tampa Florida.
1:00 pm: Meet & Assemble at Joe Chillura Park, march (2 blocks) to the School Board for Rally & Press Conference at the Hillsborough County School Board, 901 E. Kennedy Blvd., Tampa Florida. Rally open to all who oppose CAIR in the Classroom. Respectfully request that you join us & share this information with all like minded PATRIOTS in your sphere of influence… this is a statewide request.
2:00 pm: Press Conference in front of Hillsborough County School Board. Contact Terry Kemple tkemple@integrity.com or Randy McDaniels actjacksonville@gmail.com if your organization would like to participate in the press conference.
3:00 pm: Comments for formal policy to ban CAIR in front of board members. In event our item is removed from the agenda, comments will be at 5:00 pm by select representatives of the Education Coalition. All others can break for dinner and travel to church at this time for briefing and screening of "Losing our Sons" at The River Church.
5:45 pm: Doors open at the River Church for briefing Nationally Recognized Speakers listed above and others to be named later. The River Church is located at 3738 River International Drive, Tampa Florida, 33610.
6:30 – 9:00 pm: 9/11 ceremony, Security Briefing and screening of "Losing our Sons".
0
0
Dr. Rich Swier
http://drrich.wpengine.com/wp-content/uploads/logo_264x69.png
Dr. Rich Swier
2012-09-09 08:29:05
2012-09-09 08:29:05
Tampa 9/11 Commemoration and Rally