SANCTIONED: Obama Banned from Russian Honey Store
Above sign reads: SANCTIONS – US President Barack Obama has been denied the right to enter the Honey Store. Management of the Honey Store
First posted in PJ MEdia. Sanctions: them's fighting words!
Some Russians are taking sanctions imposed on their country by the Obama administration with a grain of salt, or a spoon of honey as the case may be – and impose their own improvised sanctions in return.
In one example, this Russian-language sign just appeared on the entrance door to a small store in Moscow named "Myod," which sells honey products. Translated into English, it says:
The reflection in the glass reveals a photographer wearing a Russian fur hat, against the background of a snow-covered street.
The lettering above the sign provides the store's street address and website, magazinmed.ru, which lists their products as "high quality bee pollen, ambrosia, royal jelly, beeswax, and propolis," gives directions (two minutes on foot from the Airport Metro station), and shows pictures of the interior.
A humorous sign inside the store says, "Citizens with bears are served ahead of the line," referring to the stereotypical view of bears as honey connoisseurs and aficionados. The website also has a discriminatory warning, "Customers with kangaroos are not allowed." Online purchases are not available either.

In a different corner of the world, a picture on the entrance door to a Malaysian restaurant says "Welcome to Penang Island – except Russian occupants. Go Crimea!" And then, in Russian, in red letters, "Get out!"
This is followed by the Russian flag crossed by a red line, and a footnote that says, "Free freedom drink to every Ukrainian. Offer valid until the end of occupation."
I'd like to know the address so I can take them on their offer.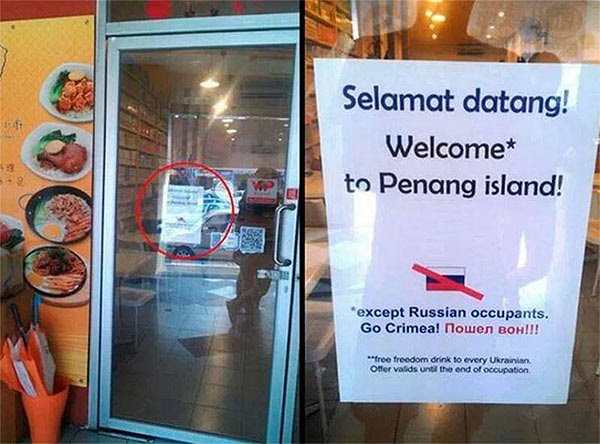 https://drrichswier.com/wp-content/uploads/obama-bee-store-ban.jpg
336
499
The Peoples Cube
http://drrich.wpengine.com/wp-content/uploads/logo_264x69.png
The Peoples Cube
2014-03-23 08:28:07
2021-10-08 01:47:41
SANCTIONED: Obama Banned from Russian Honey Store