See more at Confederacy of Drones.
In a bold move, Robert Mueller expanded his investigative and law enforcement powers to include the authority to read facial expressions and assess fashion statements.
Seeing the potential end to the current Russian collusion investigation, that so far has netted only post-election process violations having nothing to do with collusion, Mueller expanded his powers to include mental telepathy. Mueller explained that it was the next obvious step in the evolution of his authoritarian powers. "I've been given so much free reign in these investigations that sixth sense was the only possible new power to be exploited" said Mueller as he attended his weekly back-rub from CNN executives. He added that "fashion police authority was just a bonus."
Combining telepathic knowledge of what a smirk really means with the poor fashion choice of MAGA hats put the unfortunate Convington Catholic High School students square in his cross hairs … and indictment writing pen.
In response to a reporter who accidentally asked Mueller a hard question about legal aspects of fashion indictments, the Special Counsel lead investigator replied, "And your Social Security number is what?"
A Handy Guide To Facial Expressions by The Babylon Bee.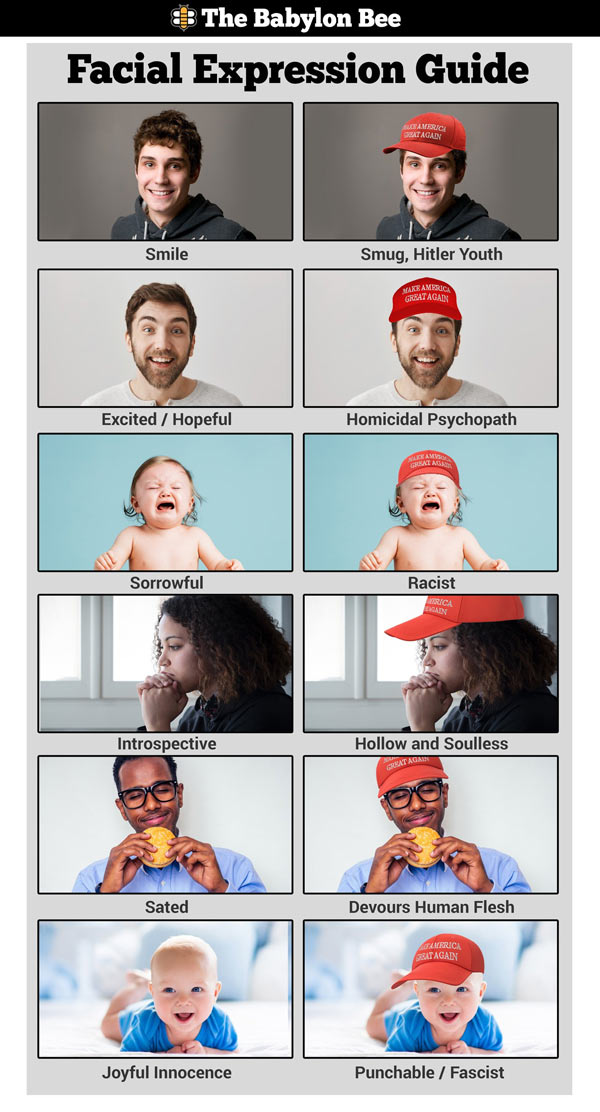 RELATED VIDEO: New Gillette Ad (parody)
EDITORS NOTE: This political satire by Confederacy of Drones with images originally appeared on The Peoples Cube. It is republished with permission.
https://drrichswier.com/wp-content/uploads/45757-Hat-Crime-vlr-1-26-19.jpg
360
640
Oleg Atbashian
http://drrich.wpengine.com/wp-content/uploads/logo_264x69.png
Oleg Atbashian
2019-01-29 19:54:08
2019-01-29 20:26:53
And the smirk, don't forget the smirk