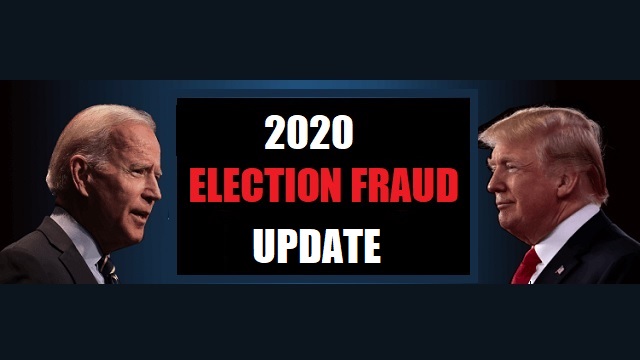 Here's an analysis of 2020 voter patterns in 4 Michigan counties from some REALLY brainiac-types with multiple MIT degrees – mathematician, data analysis and software engineering types.
It's complex BUT, if you take the time to watch/listen/digest you'll learn a lot AND it's not about "voter fraud". It's about "election fraud" and how it occurs via the voting machines' software features – not bugs – FEATURES.
The info and results are pretty astounding.
Dr. Shiva Ayyadurai, who is a MIT trained data scientist and Fulbright Scholar, along with Bennie Smith a Democrat, who is a software engineer, data analyst and an election commissioner and Phil Evans, who is also a trained engineer and data analyst, discuss some very troubling findings after reviewing the election data coming out of Michigan. Dr. Ayyadurai is a US Senate candidate in Massachusetts, which is a contributing factor as to why he began looking into the integrity of our voting systems.

Dr. Ayyadurai's discovered through a series of FOIA requests related to his own election that ballot counting machines don't directly count ballots.  Instead, they take an image of the ballot that is submitted to them, and then they tabulate the votes based on the ballot images collected.

Federal election statues dictate that all election records must be held for 22 months.  However, Dr. Ayyadurai discovered that many states do not retain the ballot images produced by the machines.  The default settings of the machines automatically store the ballot images, so this means election officials are manually disabling the image storage feature.

Because ballot images are not being retained in states like MA and MI, the election results cannot be meaningfully audited, leaving ambiguity as to the actual election outcome.  The only way to audit the results of an election without ballot images would be to manually count the ballots, which is very difficult to do.

[ … ]

Biden did not win this election, and now there is ZERO doubt about that fact. [Emphasis added]
©Tad MacKie. All rights reserved.
RELATED ARTICLE: McEnany Announces 234 Pages of Affidavits Alleging Election Irregularities in Michigan
RELATED TWEETS:
Why does no one in the media remember this exchange in the first debate between Chris Wallace and Vice President Biden: "final question for you…will you pledge not to declare victory until the election is independently certified?

Vice President Biden: "Yes."

Broken promise

— Newt Gingrich (@newtgingrich) November 11, 2020
PSYOP – Stealing Elections

The first step to stealing an election is to create an atmosphere of chaos, anxiety, uncertainty and doubt. The world must become unfamiliar so traditional points of reference are lost. pic.twitter.com/2RAhnuilHP

— Praying Medic (@prayingmedic) November 11, 2020
Mayor De Blasio's daughter slipped up and said Biden was able to STEAL the election..

Does she have some inside information?

— Tariq Nasheed 🇺🇸 (@tariqnasheed) November 11, 2020
http://drrich.wpengine.com/wp-content/uploads/logo_264x69.png
0
0
Tad MacKie
http://drrich.wpengine.com/wp-content/uploads/logo_264x69.png
Tad MacKie
2020-11-11 16:09:04
2021-10-07 21:21:00
ELECTION FRAUD: Michigan Shows 69,000 Votes Were TRANSFERRED From Trump To Biden!