Déjà vu — Attempted Assassination of Democrat Presidential Candidate RFK, Jr. in Los Angeles Thwarted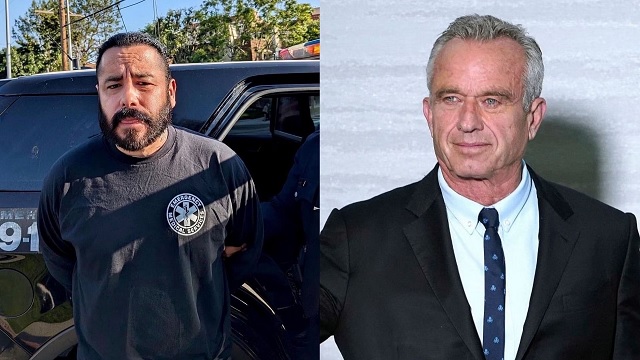 On June 5, 1968, Robert F. Kennedy, the Democrat candidate for president in 1968, was shot by Sirhan Sirhan at the Ambassador Hotel in Los Angeles, California and pronounced dead the following day.
NOTE: To date Joseph Robinette Biden, Jr. has not authorized secret service protection for presidential candidate Robert F. Kennedy, Jr.
Rather, RFK, Jr. is forced to pay for his own protection by hiring Gavin de Becker and Associates security personnel.
Fifty-five years and three months later we have RFK, Jr., the Democrat president for president in 2023, tweeting this from the Wilshire Ebell Theatre in Los Angeles, California:
I'm very grateful that alert and fast-acting protectors from Gavin de Becker and Associates (GDBA) spotted and detained an armed man who attempted to approach me at my Hispanic Heritage speech at the Wilshire Ebell Theatre in Los Angeles tonight. The man, wearing two shoulder… pic.twitter.com/vvJc0Gtk4o

— Robert F. Kennedy Jr (@RobertKennedyJr) September 16, 2023
In an article titled What happened with Robert F. Kennedy Jr.? Assassination attempt controversy explained as video goes viral Shalini Mahato reports,
An armed man [Adrian Aispuro] impersonating part of Robert F. Kennedy Jr.'s security detail was arrested on September 15, 2023. Los Angeles Police Department (LAPD) confirmed that the name of the perpetrator was Adrian Paul Aispuro. CNN reported that the LAPD has charged the 44-year-old with carrying a concealed weapon. A video of the interaction has been going viral on social media since the arrest.

The man was carrying "loaded pistols and spare ammunition magazines" as reported by Kennedy himself on X. Kennedy's security quickly detained the Aispuro at the Wilshire Ebell Theatre in Los Angeles and LAPD arrived at the location to arrest him. Robert F. Kennedy Jr. has since reiterated his request for Secret Service protection from Joe Biden, according to CNN.

It is worth noting that at the time of the incident, the Democratic Presidential candidate was set to attend a campaign event.

[ … ]

Raymond Aispuro dropped his brother Adrian at the Wilshire Ebell Theatre on Friday. Raymond insists there was some misunderstanding as Adrian Aispuro was told that he had a security job there.

According to the New York Post, Adrian's 38-year-old brother said the former was an unemployed Emergency Medical Technician. Raymond continued to say that his brother approached a security guard and asked about a "point of contact for someone."

"They didn't know who he was talking about. They told him to stay right there. He did, and next thing happens, the cops show up and arrest him," Raymond said.

Raymond was also briefly detained by the LAPD, and he insisted his sibling had no criminal record or a history of stalking. He said Adrian was not even political and added that his brother wasn't aggressive.

"My brother got bad information from someone or was misled somehow. I really don't think he was there for any other purpose except for work. He had his gun holstered, never took it out, never displayed any aggression," Raymond said in defence of his brother.

Adrian Aispuro was charged with carrying a concealed weapon at the station and booked on $35,000 bail, as per the New York Post.
©2023. Dr. Rich Swier. All rights reserved.
RELATED ARTICLE: Did Someone Just Try to Assassinate RFK Jr.?
http://drrich.wpengine.com/wp-content/uploads/logo_264x69.png
0
0
Dr. Rich Swier
http://drrich.wpengine.com/wp-content/uploads/logo_264x69.png
Dr. Rich Swier
2023-09-17 14:45:41
2023-09-18 07:34:59
Déjà vu — Attempted Assassination of Democrat Presidential Candidate RFK, Jr. in Los Angeles Thwarted